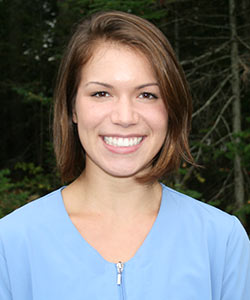 Orthodontic Assistant
Shelby grew up in Buxton, Maine, and later moved to Portland, Maine where she attended and graduated from Deering High School in 2010. She entered Dental Careers Institute in the winter class of 2012 to get started in the dental field. Shelby is currently continuing her education at the University of Southern Maine with the goal of obtaining a Bachelor of Science degree in Nursing.
Braces are nothing new to Shelby as she has had orthodontic treatment with Dr. Lisa P. Howard in preparation for jaw surgery that was needed to correct her Class III Malocclusion and open-bite. As an Orthodontic Assistant, Shelby brings her own personal experience, as well as her passion for caregiving to provide each patient comfort and understanding with their treatment.
When Shelby is not working, she is enjoying quality time with her daughter, Hailey. They love making arts and crafts, playing dress, up, and reading together. Shelby's own hobbies include hiking and staying active.