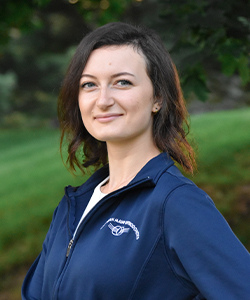 Beck has been working in the dental field for over 3 years, she started out as a dental assistant and moved on to an orthodontic assistant. Aside from frequent visits from patients, Beck thoroughly enjoys orthodontics because she loves seeing and getting to experience the progress of each patient's beautiful smile.
Beck was born in Maine and grew up in Gorham, but her family came over from Almata, Kazahstan in 1990, so she is able to speak fluently in Russian. Living for the past few years in Scarborough, Beck enjoys spending summer days in Pine point with her husband Ilya and traveling with her family. On weekends and free time Beck and Ilya do photography @bogdanetsphoto.  Who doesn't love a good sunset photoshoot?
Beck comes from a family of 7 kids, and loves serving with her family and husband in their church doing missionary work, hosting local dinners for the community and more. And though she loves traveling and discovering new places, Maine is home for Beck and she's not planning on leaving anytime soon.